Stay up to date on the condition of the sewer with our advanced and professional sewer camera inspection services
In case of frequent sewer problems on your property, or when you are purchasing a new home, investing in a sewer camera inspection can help in properly diagnosing the cause and providing the ideal solution.
Mann Plumbing has more than 25 years of experience in expert sewer camera inspection in San Diego. We use the highest quality equipment to offer advanced sewer camera inspection service. We have a professionally trained and experienced team to properly diagnose potential sewer line problems.
Knowledgeable and Expert Team to Handle Sewer Inspection
As an experienced, knowledgeable and expert plumbing services provider, we have specialty waterproof HD cameras and equipment to handle any scale of sewer inspection. Through our latest camera inspection technology, we conduct a clear and high-resolution sewer line inspection, including underground pipes, under foundation pipes and cement pipes.
In-depth Sewer Camera Inspection Services
We use the latest generation of specialized drain cameras that are smart and flexible. These cameras can easily pass through cramped and tight space in sewer lines to ensure we get the full view of the line.
Through the drain camera, we carefully examine the pipe walls and drain lines in real-time on a hand-held video transmission monitor. This helps us assess the interior condition of sewer and drain lines. We can see any problem or issue on the video transmitting monitor instantly.
Our sewer drain camera has special radio transmitters that not only detect the sewer issue, but also detect and record the depth and precise location of the problem inside the drain. Based on this information, we recommend and take suitable action to resolve the issue.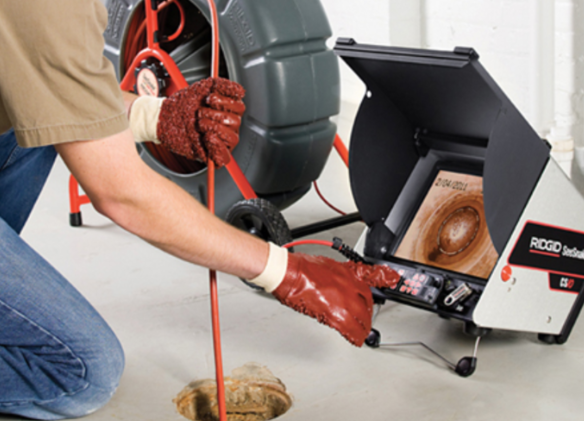 After resolution of the sewer problem, we conduct a follow-up sewer camera inspection to ensure that the issue is resolved correctly to your satisfaction.
When do You Need Sewer Line Camera Inspection Services?
Sewer line camera inspection services are recommended if your place is experiencing repetitive blockage, clogging or slow drain issues. The first step in diagnosing drain problems typically requires a drain cleaning specialists. We will usually begin with a professional drain snaking. However, if the line does not clear or we discover roots or hard spots blocking our snake, a sewer camera inspection will be recommended.
Our sewer line camera inspection allows us to provide repair to ensure that your sewer remains problem free and save you from potential damage. If roots are growing inside of the line, and it is intact, hydro-jetting is a cost-effective method of removing them. Sewer camera inspections can also show lines with missing sections, holes, or deterioration due to age. By understanding exactly what is happening in the sewer line and where, we can take swift action to help you.
New Home Sewer Camera Inspections
Sewer camera inspections are a wise investment before purchasing a new home. Home inspections do not reveal what is happening with main sewer lines, so before signing up for a new mortgage, be sure to call Mann Plumbing for a complete inspection. We can ensure there will be no surprise and costly repairs.
Get in touch with us to have a professional sewer line camera inspection to have the peace of mind!
CALL US TODAY
When you want the best plumbing service in San Diego County, make sure you call Mann Plumbing & schedule your free estimate.
We Accept

License #: 

941137
La Jolla, Encinitas,
Del Mar, Solana Beach,
Rancho Santa Fe, PB, OB,
Point Loma, Mission Beach,
Mission Hills, Bay Ho, Bay Park,
And All Of San Diego
5580 La Jolla Blvd,
La Jolla, CA 92037