Is your clogged toilet or sink causing water damage and sanitation problems? Is your bathtub draining slowly and you can't take a nice, comfortable bath?
Mann Plumbing offers professional, efficient and affordable drain cleaning services in San Diego. When you are experiencing slow or clogged drains, before wasting money on harsh drain cleaning chemicals, call our specialists.
Liquid drain cleaners do more harm than good. They corrode drain pipes causing severe damage and costly repairs.
The best solution is a professional drain snaking.  As a family owned company with years of professional expertise, we conduct thorough drain cleaning, and will assess the cause of the clog to help avoid future blockages.  We get the job done right the first time.
Trained, Licensed and Experienced Team to Handle Drain Cleaning
With our trained, highly experienced and expert plumbing team, we work in your best interest to resolve even the toughest drain problems. We offer fast, efficient, licensed, competitive and transparent drain cleaning for both residential and commercial properties.
If you are experiencing problems in the flow of wastewater from your home or business, you should contact our professional team. We use state-of-the-art drain cleaning and plumbing techniques and equipment to expertly clean your drains. You will have a clean and clear pipe with a long lasting solution.
Efficiently Remove and Clean Years of Grease Buildup from your Drains
With time, your drain pipes accumulate dirt and debris coating from grease, fats, food waste and other substances. These can cause either complete drain blockage or slow the flow of water in your drain pipes. If left unattended for a long time, it can lead to severe plumbing problems, like pipe leaks or pipe bursts.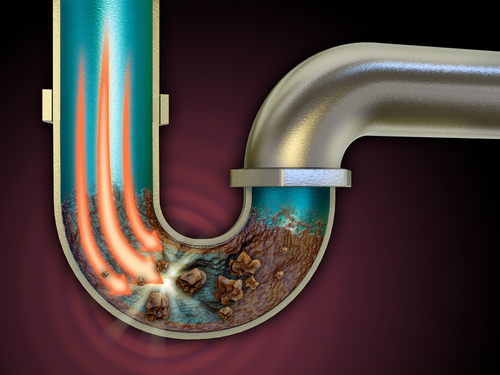 Our team of skilled experts will assess the nature of the clog to recommend the ideal repair option. When kitchen drains are blocked with years of grease, or main sewer lines have roots growing through the line, a simple drain snaking may not solve the issue.
For thorough drain cleaning, our team uses the latest technology, including hydro jetting. Hydro jetting can dissolve years of grease, descale hard buildup, and remove roots from main sewer lines. Hydro jetting uses high pressure water and a specially designed nozzle to scour the interior of the line providing the most effective drain cleaning.
When drain blockages are severe and causing damage to main sewer lines, we can inspect the cause for a professional repair. Performing a sewer camera inspection can help home and business owners identify the proper course of action to accurately and professional restore your drain services.
Contact Mann Plumbing to handle the drain cleaning job for you with professional expertise. We guarantee quick, efficient and quality drain cleaning services to keep your drains clean for restored wastewater flow and save your property from damage.
Always Ready to Serve You with Exceptional Drain Cleaning Services
Mann Plumbing is ready to help you with unexpected drain clogging and plumbing issues. We are just a phone call away 24/7. As a licensed and insured company, you will have the peace of mind that professionals will handle your problem. Our services exceed your expectations in all situations, including emergencies.
CALL US TODAY
When you want the best plumbing service in San Diego County, make sure you call Mann Plumbing & schedule your free estimate.
We Accept

License #: 

941137
La Jolla, Encinitas,
Del Mar, Solana Beach,
Rancho Santa Fe, PB, OB,
Point Loma, Mission Beach,
Mission Hills, Bay Ho, Bay Park,
And All Of San Diego
5580 La Jolla Blvd,
La Jolla, CA 92037