With over 20 years of experience, a team of specialists, and emergency availability 24 hours a day, 7 days a week, you can trust our team for all of your residential plumbing needs.  
Protect Your Home and Prevent Water Damage with Advanced Leak Detection Technology from Mann Plumbing in San Diego
Water leaks are seven times more likely to occur on your property than fires and six times more likely than burglaries. While leak prevention cannot be 100 percent guaranteed, advanced warning can be with leak defense technology in San Diego and professional installation with Mann Plumbing.
Water leaks can be frustrating and waste water, but they also lead to structural damage, costly remediation repairs, and hazardous mold growth. Fast leak detection is crucial to avoiding damage. Mann Plumbing is proud to offer our customers advance leak defense technology to protect your home and business.
Detect Plumbing Leaks and Ensure Emergency Water Shut Down for Residential and Commercial Buildings
Not only can Mann Plumbing provide the fastest alert system for home or commercial plumbing leaks, our professional leak defense system can shut water down in the event of an emergency. With precise installation and monitoring, water shut off can be isolated to specific zones and entire buildings or homes.
Proactive monitoring of a home or commercial property's pressurized water system is the surest way to prevent costly and dangerous water damage. Professional installation of advanced leak detection technology can also help decrease insurance costs, as many national insurance agencies recognize prevention as a cost savings benefit.
Leak defense alert systems are professionally installed on the home or building incoming water lines and provide 24/7 monitoring of the water flow. In the event of emergencies, such as earthquakes, leak defense systems can also help to further protect your property. Together with seismic automated gas shut off valves, with professional installation from Mann plumbing, you can protect you home or business from fires and floods 24/7.
Not only can it protect your property from leaks and floods, it can help save water by detecting even the slowest leaks, such as running toilets.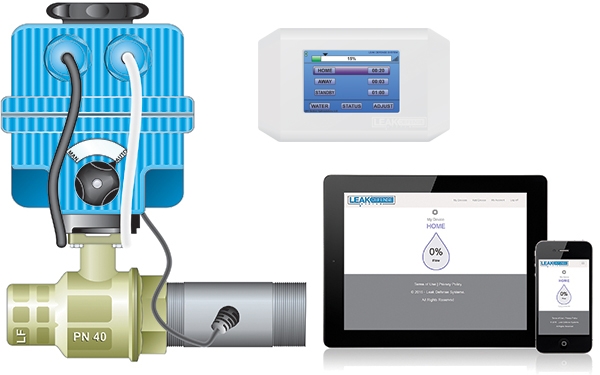 Water Leak Detection and Control with WiFi
With a smart app and potential connections to a third party security monitoring system, you are always in full control of the water supply in your home or commercial property. With a customized control panel, you can set limits while you are away and even control floor by floor water systems in commercial high rise buildings.
A slow leak, such as a slab leak, can go undetected for long periods of time causing major damage and hefty insurance claims. In high rise commercial properties and businesses, one burst shut off valve can cost thousands, if not more, in damage.
With Mann Plumbing and a Professionally Installed Advanced Leak Defense Systems in San Diego, Protect your Property 24/7
Monitor water usage, temperature, and flow

Set limits to automatically shut water down in the event of an emergency

Shut water off to an entire building, separate zones, or the home manually or automatically

Protect your property against slow leaks, burst pipes, water line breaks, running toilets, and more
Mann Plumbing in San Diego offers the highest quality services, exceptional customer care, and advanced technology to help protect your property against leaks, water and structural damage, and costly repairs. With our professional installation, you can have peace of mind that you will always be protected with an advanced warning system and leak detection in San Diego.
To learn more about how Mann  Plumbing can help protect your property against leaks, water damage, and hazardous mold, call 619-535-1322 today.
CALL US TODAY
When you want the best plumbing service in San Diego County, make sure you call Mann Plumbing & schedule your free estimate.
We Accept

License #: 

941137
La Jolla, Encinitas,
Del Mar, Solana Beach,
Rancho Santa Fe, PB, OB,
Point Loma, Mission Beach,
Mission Hills, Bay Ho, Bay Park,
And All Of San Diego
5580 La Jolla Blvd,
La Jolla, CA 92037