Do you have an obstructed drain or plumbing pipe which requires expert cleaning? Is your commercial building facing serious drain blockage problems?
Hydro Jetting Services – San Diego, CA
Mann Plumbing offers expert and professional hydro jetting service in San Diego and the surrounding areas. It is essential if your commercial building, restaurant or medical facility or even your residential property is facing severe drain issues.
What is Hydro Jetting?
Hydro jetting is a method of cleaning kitchen and sewer main lines using high water pressure. Hydro jetting thoroughly cleans lines, dissolves grease buildup and hard scale, and removes roots from obstructed pipes. Hydro jetting should only be performed by trained and experienced professionals. 
To accurately diagnose the cause of blockage and ensure hydro jetting is the proper method to repair the line, our team will perform a sewer camera inspection. It is crucial to properly diagnose the root cause of blockages and the condition of the pipe before recommending hydro jetting. Once we have an in-depth view of the pipe, we can create a comprehensive estimate to perform hydro jetting and recommended preventative maintenance services to keep the pipe clear. 
Common instances when hydro jetting is the most beneficial include: 
Homes and businesses experiencing frequent backups
Root intrusion from nearby trees
Poorly maintained kitchen and sewer pipes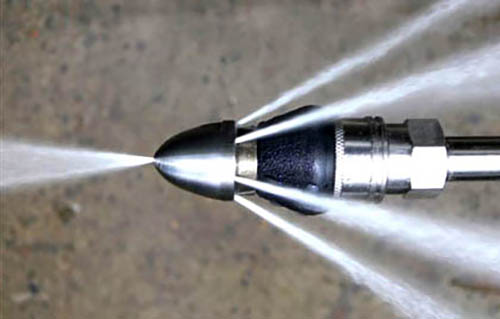 Hydro jetting is a cost effective and long lasting way to restore drain flow quickly. 

Mann Plumbing has professional expertise, training, experience and the latest equipment to perform sewer camera inspections and hydro jetting service. We are well aware of advanced hydro jetting techniques to clear clogged or blocked piping or drain system, effectively and quickly.

How is Hydro Jetting Performed?

The hydro jetting process uses specialized jetting equipment, including a jetter hose and nozzle. Using  high pressure water ranging from 1500 PSI to 4000 PSI (pounds per square inch), the jetting process scours the insides of the affected pipes clearing tough drain blockages. Reverse jets of water help propel the jetting tool in the forward direction.

At times, the jetting tool is rotated to ensure thorough cleaning of the pipes. It is considered a 'green method' of cleaning as it does not use any other type of force or chemicals to clean pipes. Our hydro jetting service offers a relatively inexpensive way to clean clogged or blocked sewers or drains.

Efficient and Quick Hydro Jetting Services

Mann Plumbing is your go-to choice for all plumbing and hydro-jetting services. As a family operated and highly-experienced plumbing company in San Diego, we are fully licensed and trained to perform all of your drain cleaning services. Our team follows the highest quality standards, and is equipped with advanced technology and knowledge to deliver the highest quality hydro-jetting.

From cleaning your residential pipes and drain systems to cleaning of your drain system at commercial properties, our superior hydro jetting service resolves your drain issues quickly and effectively.

Hydro jetting is ideal for residential and commercial drain cleaning. Often, for frequent or heavy use drains, such as commercial kitchens, or properties with large trees that can enter into the drain system, we will create a preventative maintenance hydro jetting solution to endure your drains remain clear year round. 

For exceptional services, call Mann Plumbing 619-535-1322 today! 

CALL US TODAY
When you want the best plumbing service in San Diego County, make sure you call Mann Plumbing & schedule your free estimate.
We Accept

License #: 

941137
La Jolla, Encinitas,
Del Mar, Solana Beach,
Rancho Santa Fe, PB, OB,
Point Loma, Mission Beach,
Mission Hills, Bay Ho, Bay Park,
And All Of San Diego
5580 La Jolla Blvd,
La Jolla, CA 92037